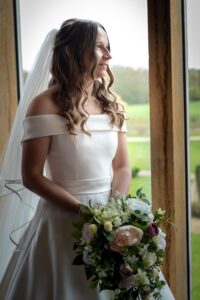 Hello Sharon,
Hope you are well.
I would just like to thank you so very very much for the dress that I have. 
I felt amazing in it !
The dress was so comfortable to wear on the day and I had such lovely comments from the guests….loved it ! 
Managed to keep the veil on until after the first dance!
The Registrars even commented on me wearing the veil over for walking down as they say its rare people do.
I have attached a few pics that I got back from the photographer at the weekend. 
Thank you so much once again.
Best wishes,
Emma