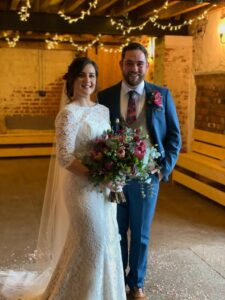 Hi Sharon,
I hope you had a lovely Christmas and new year!
I just wanted to drop you an email to thank you for all your help and mostly for helping find the most perfect wedding dress.
We managed to get married on the 16th December. We had 13 guests and did manage to have our reception 😄. We had the most amazing day and i wouldn't have changed a thing, even if i could.
My dress really was perfect. I felt incredible all day in it. I keep looking at it now hanging up and it just makes me smile!
I have attached some pictures for you 🙂 I'll send some more on once we get some from the photographer as i know there is some with more of the dress in.
Love Hayley xx